Blair Miller
---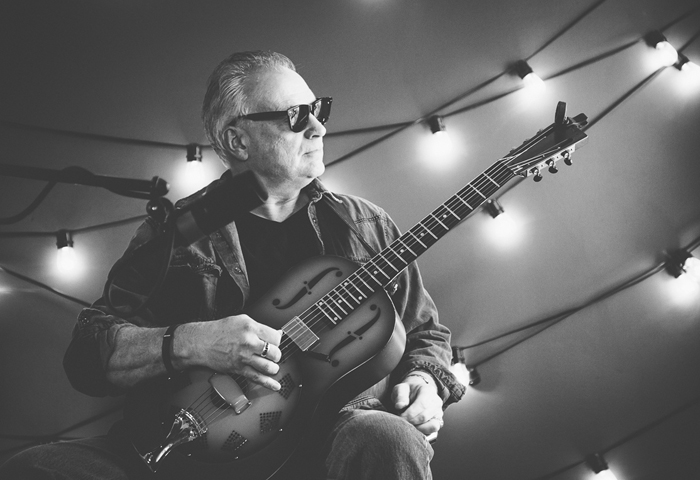 Blair Miller brings his enigmatic blues to the 6ft Apart Art Artists Pop-Up + Demos at the Glen Arbor Arts Center.
Miller began his voyage through the blues by listening to the covers by the British and American bands of the 60s. He picked up a steel resonator guitar and a slide and started working on playing the blues of the Mississippi Delta. He also plays a parlor guitar and a cigar box guitar. Miller's mini-concert is sponsored by the Manitou Music series. There is no charge.
The GAAC parking lot becomes a pop-up gallery and demonstration site. Watch studio artists demonstrate how they work and create. They'll be showing some wares, too. Come meet, talk and watch. Free.Participating artists in the
July 25 pop-up exhibition are:
Kim Bazemore, metalsmith. Contemporary jewelry.
Lindy Bishop, painter. Painting big – on a 6ft long canvas.
Angela Saxon, painter/printmaker. Monotype printmaking with wooden spoon and pin press.
The 6ft Apart Art series is a group of activities planned for Summer 2020 at the GAAC. It was developed in response to the challenges posed by COVID-19. Practices such as social distancing will be built into 6ft Apart Art events, and offer a safe alternative to traditional indoor art activities, such as gallery exhibitions and performance. The series will take place at the GAAC and turn the front yard and parking area into open-air exhibition venues.