Bead Embroidery
---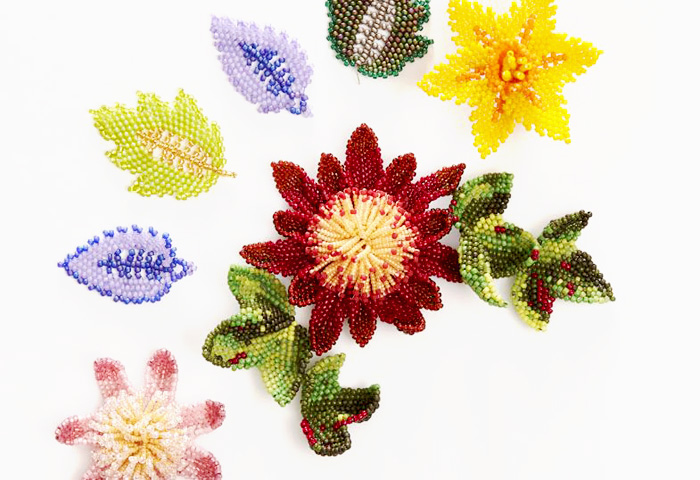 Date: 2 Fridays; March 3,10
Time: 12 – 2 pm
Registration Deadline: February 28
Explore the art of embroidery by creating your expressive pattern ideas. Various techniques will be taught, including how to make a repetitive design, design motifs, and the benefits of working with embroidery. We will then decide how to transform our drawings into bead embroidery designs adding dimensionality and embellishment. Finally, we will look at various bead embroidery examples to gather inspiration for our final pieces.
After studying textiles at the Rhode Island School of Design, Alyssa Brieanne started an embroidery and textile studio. All designs begin with a hand-drawn image or painting that is then translated into embroidery. Each piece is a unique color and material investigation, incorporating textures and embellishments. Her work is whimsical, colorful, and playful. She is inspired by folk art and vintage textiles.
Website: alyssabrieanne.com
Any article of clothing if students want to embellish on their piece. Beads and embroidery floss. The instructor will provide fabric pieces to sample techniques.
COVID-RELATED UPDATES TO 2023 PROGRAMS AS OF 12/20/2022
To ensure the safety of our students and Staff, we have implemented new procedures for our 2022 programs to mitigate the spread of COVID and still allow participants to have a wonderful time creating art.
Class sizes will be limited to 12 persons for indoor programs and 16 outdoor programs
All students who have symptoms of respiratory or gastrointestinal infections, such as cough, fever, sore throat, vomiting, or diarrhea, should stay home and not attend class.
Students and Staff will wash and sanitize hands frequently throughout the day.
Staff will sanitize common areas and touch surfaces regularly.
We have optimized our indoor ventilation system to reduce the risk of germs and contaminants spreading through the air.
If Leelanau County COVID-related cases are designated high risk, students and visitors must wear a face mask to prevent transmission.
To keep pace with the evolving conditions related to the pandemic, Staff will inform the GAAC's new policies or procedures before the start of the course.