Basic Drawing – Let's start with a line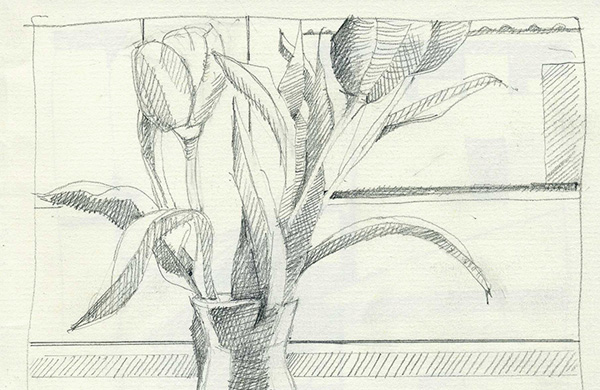 July 15, 22, 29: This three-session class will help you develop basic drawing skills. Starting with a line, we explore the use of dark and light values as we focus on the drawing process and direct observation. The class includes demonstrations, discussions, and presentations of drawing examples from the Masters to contemporary artists. Creating a personal sketchbook will be encouraged.
[tabby title="Instructor Bio"] Joan Gallagher Richmond graduated from the Art Academy of Cincinnati and holds an MFA from the University of Notre Dame. She taught painting for 10 years at Northwestern Michigan College and continues to instruct drawing and painting workshops. Richmond uses gouache, acrylic and other media both in open air and in her studio in Traverse City. Richmond exhibits regionally, is represented in corporate collections throughout the Midwest and has been awarded numerous artist-in-residence positions.
Monday, July 22, Time:  9 am – 1 pm
Monday, July 29, Time:  9 am – 1 pm
[tabby title="Supply List"] Paper: one 11 x 14" (approximate) pad of white drawing paper;
Pencils: a variety of leads ranging from 6B to 4H;
Eraser(s);
Pens: one ball-point and one fine tip black ink technical pen (like Pilot or Micron)
Drafting or masking tape
Optional:
Drawing board–about 20 x 26 inches (Can be a piece of hardboard, smooth on one side)
One small sketchbook
[tabby title="Refund Policy"] We understand that your plans might change. If they do, notify the GAAC office as soon as possible. Requests for cancellation by the student at least thirty (30) days prior to the first day of the workshop will be honored (minus a $20 processing fee). NO REFUNDS will be given for a student cancellation made less than thirty (30) days prior to the first day of the workshop. [tabbyending]