Alternative Books: You Do You!
---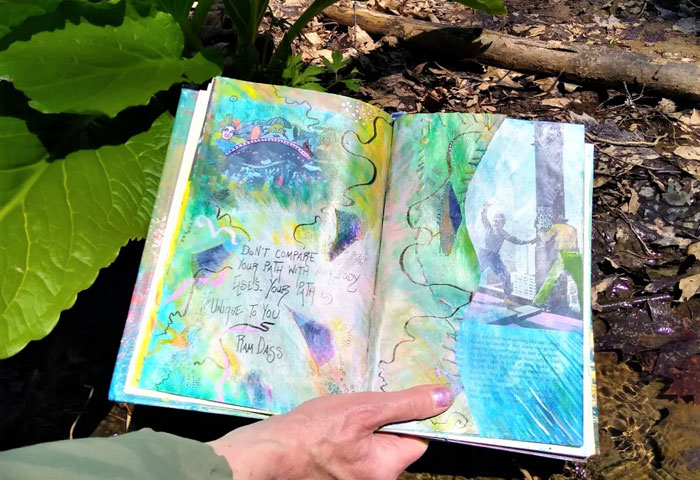 Date: July 13
Time: 10 am-3 pm (with a lunch break)
Registration Deadline: July 8
Create your fun, unique and soulful one-of-a-kind art book. We will be using "tossed out" hardcover books. Come prepared to play and experiment, as Claudia will teach various techniques. This fun-filled class is for all skill levels! Bring your hardcover book or select a book from the stash.
Relax and explore your creativity through some of the following processes.
Gesso prep for pages, book covers, and bindings
Encaustic
Embroidery/sewing on book pages and added textiles
Drawing, Painting, Lettering
Stencils
Printmaking
Image transfer
Mark making with handmade tools, sticks, charge cards, combs, etc.
Windows and secret drawers
Collage`, magazines, textiles, ticket stubs, newspapers, etc.
Personal exploration and freedom are encouraged!
The "theme" of your Alternative Book is entirely up to you. You do You! Your art book can be wonderfully random, a sketchbook to draw and paint, a photo album, a travel journal, chefs' notes, quotes, etc.
Claudia is a lifelong artist and Art Educator with a celebrated career in public schools. She is a mixed media artist who loves using discarded rusty scraps, vintage textiles, and organic treasures provided by Mother Earth. Claudia unifies her work with embroidered hand sewing, drawing, and painting to reconfigure soulful connections.
Claudia has run countless rewarding and fun summer art camps for teens ages 12-18 and was awarded "Teacher of the Year" in her school district. In addition, she exhibits her art throughout Michigan and collaborates with several conservation organizations. www.tcriverart.com
-Bring your hardcover book or select a book from the stash.
-Any personal artifacts you might want to add to your book, ticket stubs, textile scraps from t-shirts, denim, scarves etc.
-Magazines, junk mail, newspaper etc.
COVID-RELATED UPDATES TO 2022 PROGRAMS
To ensure the safety of our students and staff, we have implemented new procedures for our 2022 programs, to mitigate the spread of COVID and still allow participants to have a wonderful time creating art.
Class sizes will be limited to 12 persons or less for outdoor programs and 8 or less for indoor programs.
All students must wear face coverings inside the center.
Students and staff will wash and sanitize hands frequently throughout the day.
Common areas and touched surfaces will be sanitized regularly.
To keep pace with the evolving conditions related to the pandemic, any new policies or procedures for classes will be communicated.