After School Arts-To-Go: Expressing Movement with Art
---
Date
This is a virtual/on-demand class so you may register anytime.
Title
"Expressing Movement with Art: Charcoal and Paint" (inspired by contemporary artist Heather Hansen, Jackson Pollock, and the science of magnetism and movement).
Description
Young artists will combine art and science to create abstract artwork that explores and captures movement. They will learn about the life and art of Heather Hansen and then explore chalk and charcoal techniques to create and capture motion. The action painting of Jackson Pollack will lead them to experiment with the forces of motion by using paint and small objects to make lines and shapes with paint by rolling and sliding.
Format
On demand: four teaching videos (approximately 20 mins each) are emailed upon registration. The art kit will be shipped to you and the shipping is included in the price. The kit contains all the materials needed for creating alongside the teaching videos and for hours after the video ends.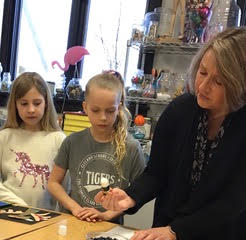 Jill Hunt is a passionate art educator who recently relocated to Leelanau County and is excited to connect with the area's arts community. She has guided students ages preschool-adult in a variety of art experiences and workshops as well as creating art curriculum for schools, summer camps, and activities for museums.
Welcome letter; Charcoal pencil & sharpener; Charcoal sticks; Chalk pastels; Acrylic paint in squirt bottles; Palette for paint; Marbles; Magnet wand ; A variety of small metal objects (paper clips, screws, springs, ball bearings); Styrofoam tray; 5×7 sheets paper; Plain papers; Large format drawing paper; Scissors
What is the deadline for registering?
You may register anytime through 2021.
What happens when I register?
You will receive a welcome email with details for accessing the video teaching modules.
When does my art kit ship?
Art kits are shipped on the first and third Wednesday of the month.
What if I'm not within the recommended age?
Our recommended age is only a guideline, based on the video content and art kit materials. We'll let you be the final judge on signing up!
Sorry, no refunds for this virtual class.