After School Arts: Session 2
---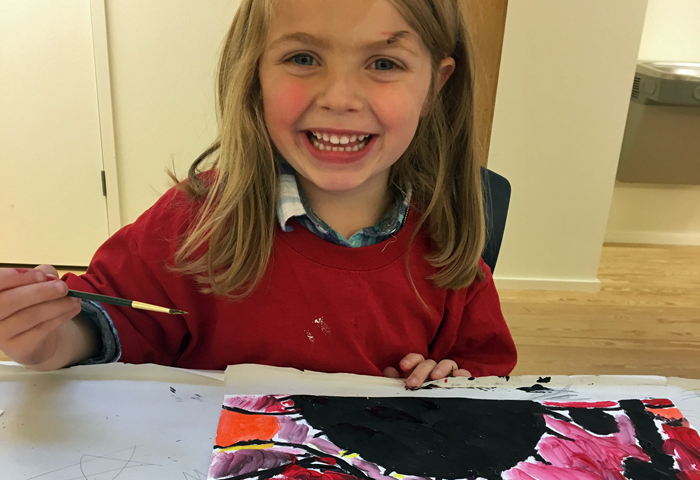 Dates: December 8, 15, & January 5, 12, 19
Time: 4-5:30 pm
Registration deadline: December 5

Through thoughtful instruction and engaging, process-oriented projects, the GAAC hopes to inspire and support all children in building their own creative confidence.
Our five-week sessions offer students an engaging visual arts experience that focuses on technique, exposure to different media and most importantly FUN!
Offered to students in Grades K-4.
Snack and all art supplies are included.
Multi-Child Discount: $10 (will be calculated in cart when registering on website).
Scholarships are available. Please call the GAAC office for more information: 231-334-6112.
A health form is required per child. Click or tap the health form tab below.
A bus form is required if child will be riding the bus from Glen Lake Elementary.
Autumn Kirby loves working with students of all ages and abilities. She graduated from Minneapolis College of Art and Design in 2003 with a Master of Fine Arts with an emphasis in Multimedia Painting. She also received her Bachelor of Fine Art with a painting emphasis from Western Michigan University in 1999. She is presently enjoying acrylic painting, charcoal drawing, and playing violin. Autumn lives in Interlochen with her husband, four boys, and two mastiffs.
Please submitt a bus form if child is riding the bus from Glen Lake Elementary.
Download Bus Form
COVID-RELATED UPDATES TO 2022 PROGRAMS AS OF 9/7/2022
To ensure the safety of our students and Staff, we have implemented new procedures for our 2022 programs to mitigate the spread of COVID and still allow participants to have a wonderful time creating art.
Class sizes will be limited to 12 persons for indoor programs and 16 outdoor programs
All students who have symptoms of respiratory or gastrointestinal infections, such as cough, fever, sore throat, vomiting, or diarrhea, should stay home and not attend class.
Students and Staff will wash and sanitize hands frequently throughout the day.
Staff will sanitize common areas and touch surfaces regularly.
We have optimized our indoor ventilation system to reduce the risk of germs and contaminants spreading through the air.
If Leelanau County COVID-related cases are designated high risk, students and visitors must wear a face mask to prevent transmission.
To keep pace with the evolving conditions related to the pandemic, Staff will inform the GAAC's new policies or procedures before the start of the course.