Acrylic Painting for Beginners
---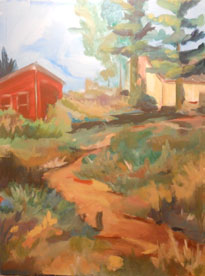 Sorry, this class is full. Please call if you would like to be added to the waiting list: 231-334-6112.
This is an introductory class for beginners. We will explore the possibilities of acrylic painting on canvas, board, and paper. We will paint en plein air with an overview of composition, balance, and a smattering of color theory. What happens when we use the paint straight out of the tube? What if we mix it with water or acrylic medium? This is a good class for those who are just learning about acrylics and those who need a refresher. We will complete one to three landscapes depending on the pace of the student. A sun hat is recommended. A supply list is available, but the instructor will provide paints.
Educated at the Evergreen State College and El Instituto Allende, local artist and gallery owner Beth Bricker is known for her work in acrylic and soft pastel. She and her work can be found at the Lake Street Studios in Glen Arbor. Visit www.lakestreetstudiosglenarbor.com.
Two day workshop: July 2 & 3 | 10 am – 1:30 pm
See supply list: click here