Abstract Landscape – Exploring Oil and Cold Wax Mixed
---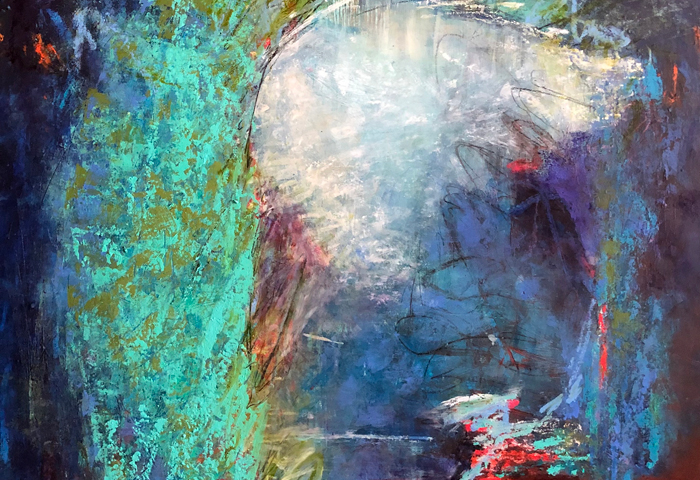 Date and Time: October 17; 9 am-5 pm
Registration Deadline: October 14
Mara Manning's workshop offers demos and hands-on experience with cold wax medium and oil paint. Manning, a former art teacher and now professional painter, shares with participants methods to explore the basic materials, tools, surfaces, and techniques that she employs in her work. Participants paint with cold wax, oils, pigment sticks, and powdered pigments and experience the expressive potential of layering, texture, and mark-making. In addition, Mara helps artists address barriers to creativity, letting go, and working more freely. Since the medium does take dry time, students will leave the workshop with "in-progress" works.
WORKSHOP PRACTICE AND DISCUSSION TOPICS INCLUDE:
Basic tools, materials, surfaces, and safety
Working wet-in-wet
Foundational layers and texture
Brayer techniques and veil of color
Understanding stages of dryness
Mark-making for structure and expression
Stencils, masking, creating shape, and dividing space
Pigments, powders, and marble dust
Mechanical and solvent reductions
With a BFA in Painting and Drawing from UW-Milwaukee and a Master of Arts in Education from Lesley University, as well as many additional workshops and courses, Mara retired from a 24-year career as a high school art teacher. For the past six years, she has concentrated her efforts on building a full-time painting career. She works in a studio overlooking Lake Michigan, taking walks every day with her Cardigan Corgi, Pippa Middleton. Nature, rocks, walks, family, and the dog fuel her abstract landscapes. Mara has been oil painting for over 40 years and painting with cold wax for 15 years. Her paintings have been included in many juried exhibits over the years in Wisconsin, Michigan and Illinois, and Ohio. She has won purchase prize awards, a merit award, a donor award, and the opportunity to be a featured artist at the Marquette MI arts and culture Jack Deo Gallery. She has exhibited solo at the Hartwig Gallery, Escanaba; Mr. Helsinki, Fish Creek, and Telluride Arts District HQ Gallery. Mara is represented by galleries in WI, MI, and TN. maramanningstudio.com
Supplies are included with registration.
Minimum Enrollment: Glen Arbor Arts Center reserves the right to cancel any class or multi-day, sequential-day workshop that does not meet its minimum student enrollment prior to the first class session. If a class is cancelled by GAAC for lack of enrollment, GAAC will offer a full refund to the student in the manner in which tuition was paid (Cash payments will be refunded by check). Please be aware that GAAC is not responsible for losses incurred due to housing, travel or other arrangements.
Requests for cancellation by the student at least seven (7) days prior to the first day of class will be honored (minus a $20 processing fee). NO REFUNDS will be given for a student cancellation made less than seven (7) days in advance of the day of the class.
COVID-RELATED UPDATES TO 2021 PROGRAMS AS OF August 25, 2021
To ensure the safety of our students and staff, we have implemented new procedures for our 2021 programs, to mitigate the spread of COVID and still allow participants to have a wonderful time creating art.
Class sizes will be limited to 12 persons or less for outdoor programs and 8 or less for indoor programs.
All students must wear face coverings inside the center when social distancing isn't possible.
Students and staff will wash and sanitize hands frequently throughout the day.
Common areas and touched surfaces will be sanitized regularly.
To keep pace with the evolving conditions related to the pandemic, any new policies or procedures for classes will be communicated by September 15, 2021.