2022 Art Rangers Camp Session 4
---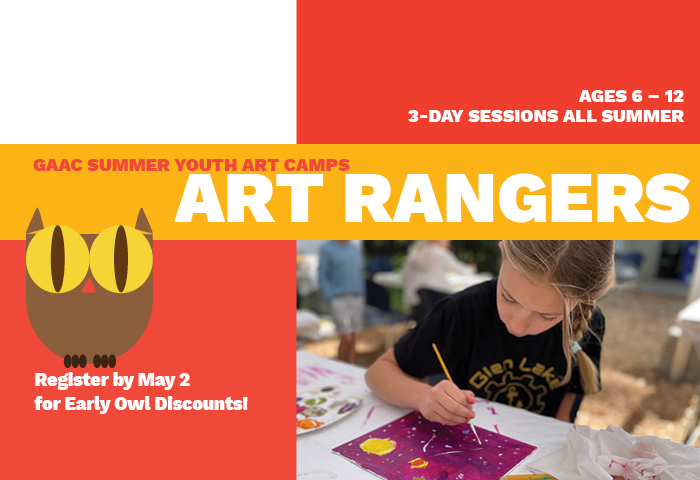 Date: July 18, 19 and 21
Time: 9:30am-12pm
Registration Deadline: July 18
Location: GAAC
GAAC's Art Camps bring together two unique visual arts opportunities for artists 6-12 years old. Classes include all art materials. Instructors will help campers foster natural creativity, self-expression, art techniques and offer a real FUN time!
The Art Rangers camp is the perfect choice for the young artist who wants to explore various mediums in a supportive, engaging environment. Art Rangers have the opportunity to paint, draw, sculpt, and print each week with new and exciting projects. Join us for one session or all summer! Campers will leave with an overflowing portfolio that is sure to inspire continued curiosity.
Autumn Kirby loves working with students of all ages and abilities. She graduated from Minneapolis College of Art and Design in 2003 with a Master of Fine Arts with an emphasis in Multimedia Painting. She also received her Bachelor of Fine Art with a painting emphasis from Western Michigan University in 1999. She is presently enjoying acrylic painting, charcoal drawing, and playing violin. Autumn lives in Interlochen with her husband, four boys, and two mastiffs.
COVID-RELATED UPDATES TO 2022 PROGRAMS AS OF December, 2021
To ensure the safety of our students and staff, we have implemented new procedures for our 2022 programs, to mitigate the spread of COVID and still allow participants to have a wonderful time creating art.
Class sizes will be limited to 12 persons or less for outdoor programs and 8 or less for indoor programs.
All students must wear face coverings inside the center.
Students and staff will wash and sanitize hands frequently throughout the day.
Common areas and touched surfaces will be sanitized regularly.
To keep pace with the evolving conditions related to the pandemic, any new policies or procedures for classes will be communicated.