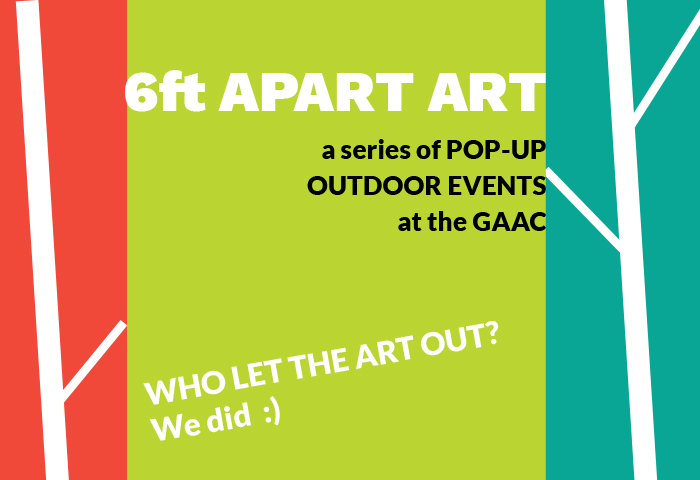 June 4 | 11 am – 3 pm | Glen Arbor Arts Center
Rain date: June 5
Application Deadline: May 15, 2022
The Glen Arbor Arts Center's first 6ft Apart Art Artists PopUP + Demo event of 2022 is June 4. The GAAC will collaborate with Up North Pride to create the Unconditional PRIDE Artists PopUP + Demo, a celebration of the visual, performing and literary arts by LGBQT creatives and allies.
Want to Participate? Here's How
Ten spaces will be reserved for artist-exhibitors at the June 4 pop-up. Applicants are asked to email a short description of their work, and up to 5 images of work that is representative of what they will be exhibiting. There is no fee to participate. Acceptance is on a first-come basis. Deadline for applications is May 15.
Where is the Pop-Up Held?
The GAAC's driveway is blocked off and becomes an open air pedestrian mall during the Unconditional PRIDE PopUP. Visitors will be able to watch artists work, ask questions and engage directly. Work may be offered for sale. In addition, there will be musical performances; and information about the 2022 Up North Pride day and the Unconditional PopBox installations.
Here Are Some Particulars
The PRIDE PopUP will be staged outdoors at the GAAC, along the driveway, and at various locations on the GAAC property.
The pop-up will feature up to 10 visual artists.
Entrance to the parking lot from Lake Street will be blocked off so that the site is pedestrian friendly.
This is an opportunity to show and sell your work. Having work to sell is not required. It's an option.
OF MOST IMPORTANCE: In addition, we're asking exhibitors to demonstrate and/or work on-site during the exhibition. Nothing complicated, just some activity that might be engaging for visitors to watch. This is a great opportunity to talk about your work, and help people gain more insight into your thinking, processes and materials.
The GAAC can provide exhibitors with an 8 ft. long folding table and chair.
Please bring your own umbrella/appropriate shelter/hat/hydration. The venue gets very sunny for several hours during the day.
There is no exhibition fee.
SALES: The GAAC will run any art sales through its system, and collect sales tax. Exhibitors will receive 70% of the sale. The GAAC will take 30%.
The GAAC will actively promote the event. There will be multiple things for visitors to see while they are at the PRIDE Pop-Up, including the GAAC's exhibition FLAGS, the GAAC's Prayer Flags Clothesline Show, live music throughout the day, friendly people who are interested in what you do. The other displays at the GAAC are passive and will serve to provide more inducement for people to visit.
The PRIDE Pop-Up runs 11 am – 3 pm.
Any Questions?
Please contact Sarah Bearup-Neal: (231) 334-6112.
Learn more about Up North Pride, and Up North Pride 2022 events here.
Apply Here