2023 Outdoor Gallery Panel Auction
---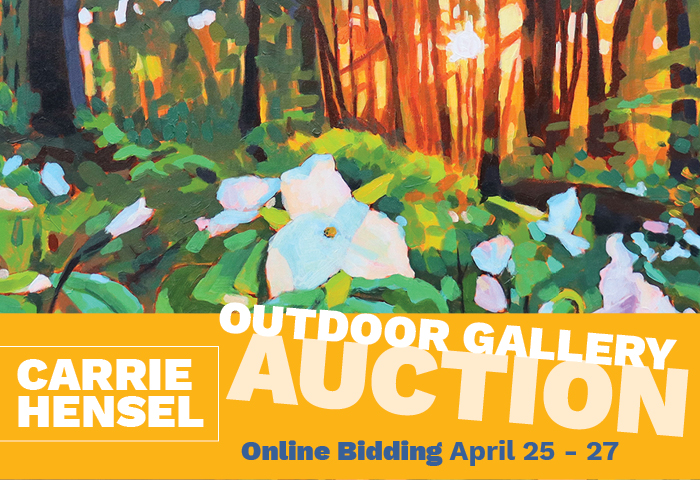 Auction is April 25 – 27, 2023
All five panels from the Glen Arbor Arts Center's 2022 Outdoor Gallery exhibition will be available for acquisition. The GAAC is holding an online auction April 25 – 27, 2023. The 5-foot square artworks are reproductions of original, acrylic paintings by Carrie Hensel, the Ann Arbor, Michigan, winner of the 2022 Outdoor Gallery competition.
The panels are lightweight aluminum finished with a weather-resistant coating. They now hang on the GAAC's exterior walls, and may be viewed at any time. Proceeds from the auction benefit the GAAC's Outdoor Gallery project.
Purchasing
Online bidding begins on April 25, 9 am, and concludes on April 27, 2 pm. Opening bids start at $600/panel minimum on these four panels: Revisit The Pines, Birches In October, Wintry Woods, and Twilight On Bear Lake.
Note: The opening bid for the Morning Sun On Trilliums panel begins at $500. In Summer 2022 there was an unsuccessful attempt to steal this panel, which resulted in some surface damage: several linear scratches, and two "dents" along the top edge of the panel.
You must be registered or logged in to your account before you are able to place a bid. On each auction product page, there are information tabs about bidding [how to place your bids], artwork details [technical information about the panels, pick-up, winner responsibilities], and an artist's bio. You may want to read this information in advance of your bidding. When the bidding opens, there will also be a history of bids tab you can view.
Take A Look
You can get nose-to-nose with the Outdoor Gallery panels anytime of the day or night. They're always on view on the exterior walls of the GAAC.
Read about Carrie Hensel, and the 2022-23 Outdoor Gallery exhibition here.
The Outdoor Gallery Project enjoys the support of Image360, Leelanau Enterprise, Northwoods Hardware, Saxon Design, the Amy L. Clark-Carels Family Fund, the Barbara and Victor Klein Fund, the Michigan Council for Arts & Cultural Affairs, and the National Endowment for the Arts.
---
You must login or register to bid on auction items when the auction is open. It is not necessary to login for viewing only.